Millions of dollars recovered
Delxaux Law has recovered countless 6- and 7-figure settlements and verdicts on behalf of clients.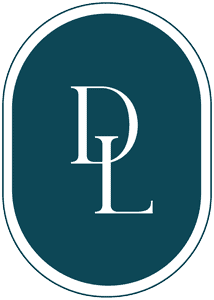 We've accumulated a track record of standing up to businesses that break the law, including:
Pregnancy Discrimination and Harassment
$1,000,000
Human Trafficking
$1,500,000
Sexual Harassment
$667,000
Racial Discrimination
$1,200,000
Motherhood & Breastfeeding Discrimination
$550,000
Pregnancy Discrimination and equal pay
$795,000
Disability Discrimination
$500,000
In addition to monetary recovery
Delvaux law recovered their clients' sense of dignity and self-worth.
Our lawsuits also resulted in the terminations of abusive managers and company-wide legal training. We've been cleaning up corrupt California corporations, one case at a time. 
Our work also resulted in workers receiving paid time off for bonding, healing, or caring for loved ones. She also saved countless jobs during the pandemic by educating thousands on leave of absence and accommodation rights.
"Working with Daphne was extremely rewarding. Every step of the way I was supported and empowered to stand in my power as an African-American woman. She advocated for my rights and worked tirelessly to ensure a deserved outcome. She also provided referrals in other areas in my life. She's an extremely trusted lawyer. Don't lose hope. Contact her immediately."
"Daphne is the embodiment
of grit and grace."
She is classically trained as a trial lawyer, but also understands the real life challenges us women face. She was always kind to me but to the other side she was demanding. She did not back down until full justice was achieved. She never pressured me to settle my case for less than I deserved.
She kept me calm and informed the entire time. I never felt scared on confused because I knew she was protecting me. 
"If you are considering working with Daphne, or really if you're just experiencing certain treatment in the workplace, and you in your gut are thinking, "This does not seem right. This is not okay…" Run it by her. She can support you in a lot of different ways.[…] I highly recommend that you reach out to her, and I am really excited to see what she does for the world, and what she does for women and parents with her new firm."
Verified reviews from avvo.com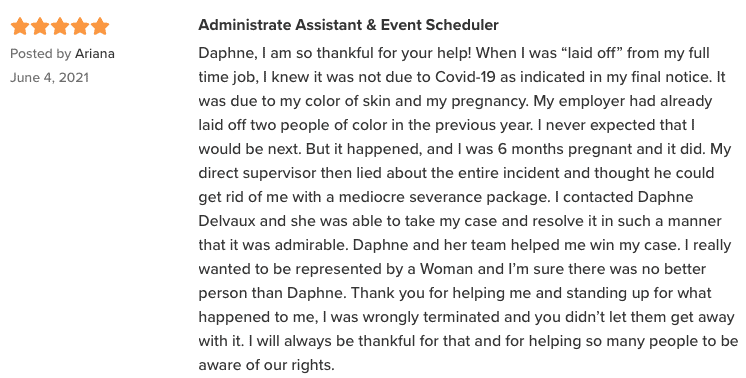 About 6 months after hiring Daphne, I bought a house, cash. That's how powerful she is.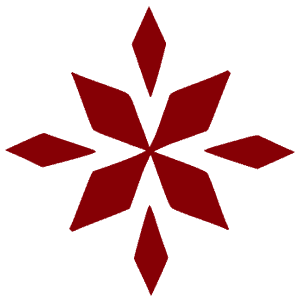 Daphne knew immediately which laws applied to my situation and how to correct the problem. She is basically an encyclopedia on California gender discrimination laws.
Daphne is a real life feminist icon. What she brings to the table is unparalleled. I consulted with many lawyers before hiring Daphne (most of them men). None of them truly understood what I was going through and were quite harsh and rude to me. I was also shocked to find out that many employment lawyers don't actually understand maternity regulations in California. Most of them gave me the wrong advice whereas Daphne knew immediately which laws applied to my situation and how to correct the problem. She is basically an encyclopedia on California gender discrimination laws. I was so relieved when I talked to her because I finally felt heard. She even told me "I'm so sorry that this happened to you" and no one had told me that before. Everyone just thought I was making it up or they were challenging me which made me feel ashamed and confused.
She litigated the case all the way until the employer paid what was fair.
Daphne is a BEAST. She is super passionate about helping women succeed at work. She litigated the case all the way until the employer paid what was fair. She took depositions in my case and the witnesses were trembling the entire time. It was quite surprising because she was so warm and understanding to me. I would not want to be on the other side of her case. I also think many companies are quite scared of her because of the visibility and reach she has.
"I was fired for being pregnant. Contacting Daphne was the best decision I ever made. It was a stressful time for me. In the first conversation with Daphne, she put me at ease, she took her time to listen and let me express my emotions. I instantly felt relieved. She knows what she's talking about. She was very transparent and always let me know the next steps. Up until now she still checks in with me. I would highly recommend her."
"Daphne helped me win a major case and became one of my biggest supporters throughout one of the toughest times in my life. She was there for me when I was panicking. She fought for me. I wanted to give up so many times. She gave me the confidence I needed to continue on. She did not settle until we got the results she knew I deserved. Those results were life-changing. It's all thanks to her. She knows what she's doing and she's an amazing person. I appreciate her so much. If you have any doubts about her, erase them."



"Thank you from the bottom of my heart for your guidance!"
You are a gift! We are so lucky to have you.
"Daphne is like a mother lioness protecting her cubs and all cubs. She has a caring nature but will go for the kill if necessary."
"You are restoring my faith in humanity."
"I feel like I found the golden grail."
"I struck gold finding you and I can't stop sharing all of this wonderful information. Thank you!!"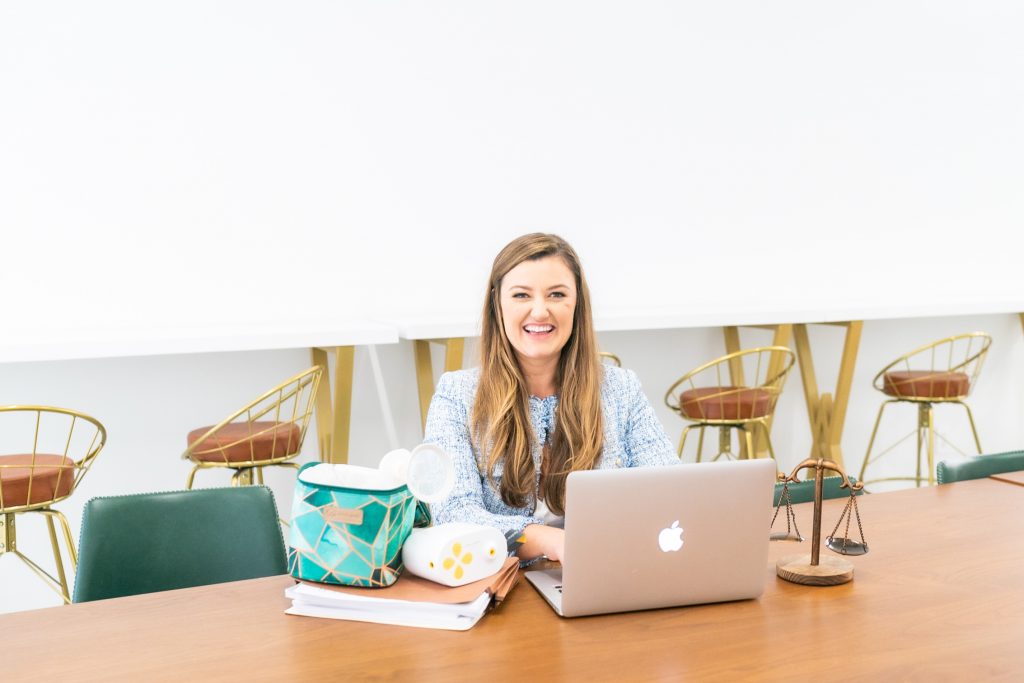 Are you ready to discover
How Powerful You Truly Are?
There are many employment lawyers who will do a fine job for you, but none of them have made women's rights their entire discipline.
None of them have committed to changing the world for all women, one company at a time. We will not stop until all women have a seat at the table, and feel safe, secure, and respected at work. You deserve justice.